'If Chutzpah Were Measured on the Richter Scale, This Would Be a 10'
Chief Zionist at the UN—Israeli Representative Ron Prosor
It seems like Jews are seeking reparations from just about everybody in the world these days. So far as I know, they haven't yet filed claims against Trinidad, Tuvalu, or the Marshall Islands, but give them time and maybe they'll get around to them as well. If you haven't read my article Swindler's List: The Holocaust Reparations Racket, you might want to consider doing so as background. There are certain cynics in the world (myself included) who would say the reason Jews are now pursuing reparations claims against Arab countries is so they can offset or deflect any judgments that may be coming their way with regard to their plunder and theft of Palestine. In addition to the subject matter presented, Ariadna's article underscores something else as well: the urgent need to democratize the UN.




Jews Demand Justice for Refugees

By Ariadna Theokopoulos

Finally, after a 64-year delay, the UN has approved organizing a conference to examine the damages suffered by people who were displaced from their native land, forced into exile, and dispossessed.

Did you think the refugees in question are the millions of Palestinians, some still living in refugees camps in Lebanon and many scattered in neighboring countries and elsewhere in the world, or those expulsed more than once and living in internal exile in that final outpost, the hopeless Palestinian Ultima Thule, Gaza?




You were wrong.

Did you think the refugees about to be dispensed justice are millions of Iraqis who escaped death and took refuge wherever they could while their country was devastated by the barbaric assault wrought upon it by the US and its "coalition of the willing" to fulfil the Oded Yinon Plan?

Wrong again.

Perhaps you were thinking they are the refugees from Lybia, or Syria, all part of the of the PNAC plan? Still wrong.

This is what the UN conference is about:

In spite of opposition from Arab countries, the UN accepted Israel's request to hold a conference on "Jewish Refugees displaced from Arab countries," which started on Friday, September 21 at the UN headquarters in New York.

A request from representatives of Arab countries to be allowed to have a table at the entrance of the conference hall to distribute statements to the press was denied.
The conference was organized by the Israeli Foreign Ministry and Israel's special envoy to the UN. The UN officially accepted the conference's aims to achieve justice for "Jewish refugees displaced from the Arab world" who, according to Israeli Deputy Foreign Minister, Dani Ayalon, "were expelled and tortured, and their rights were taken away."

"We are talking about a 64 year delay", he said, "But it is never too late to achieve historic justice".

Senior UN officials and ambassadors of various European States, and the United States, are participating in the conference.

Israeli Envoy at the United Nations, Ron Prosor, delivered a speech at the conference demanding the United Nations to establish a center for studying and documenting the issue of Jewish refugees, and demanding the U.N to help the Jewish refugees in providing their testimonies regarding what happened to them, and to "recognize the humanitarian crisis they faced. Jewish refugees deserve justice", he said, "Israel is acting on achieving this justice on their behalf."

One more question:

Do you think Israel is about to commit one great act of atonement for the jewish new year and come clean about the terrorist acts carried out by its agents against synagogues in Iraq and elsewhere to frighten the local jews still unwilling to make "allyah" and convince them that Israel is the only safe heaven for them?

No, no such atonement coming up. Israel, on the contrary, plans to demand reparations from the Arab countries for the jews who emigrated from their native Arab lands to Israel through zionist terror.

Prosor said that the United Nations and the international community remained idle regarding the issue of Jewish refugees, and that "the time has come for demanding the Arab countries to take responsibility, and admit the fact that they expelled around a million Jewish refugees, and confiscated their property".

Testimonies are to be provided by several Jewish citizens of Israel, who immigrated to the country from different Arab states.

Israel has never taken responsibility for displacing hundreds of thousands of Palestinians, destroying hundreds of Palestinian towns and villages,and transforming an entire population into a population of refugees, a criminal action it continues to carry out in the West Bank now. It is also refusing to recognize Palestinian Right of Return in violation of international laws and the Fourth Geneva Convention. Israel is continuing to make Palestinian refugees every day and bulldozing their homes, destroying their orchards and property, stealing their land.

Apparently, just as there is no holocaust but the Holocaust™, there are no Arab refugees, only jewish refugees, and the term "reparations" will probably be soon appropriated as well.

Just when one might have thought the reparations scheme had run out of countries, just when you thought that perhaps the bold act of Hungary to demand their money back* might be the last nail in their coffin, the extortion shape shifters called reparations strike again!

If chutzpah were measured on the Richter scale, this conference would score a "10."

Yet it is not a discordant note; it is on a continuum of Israeli and jewish power behavior so if in that moral universe this is natural behavior, why blame Israelis/jews? It is like blaming water for flowing downhill and trying to shame it into stopping. Blame the terrain. And build some digs!

___________

*It pained Elie Wiesel so much that he returned a Hungarian award (made of some cheap, base metal) he had received earlier in the year.



One might ask the question: are Jews from Arab countries on board with the scam? Apparently not all of them are. H/T to msa.




Iraqi Jews reject 'cynical manipulation' of their history, writer tells EI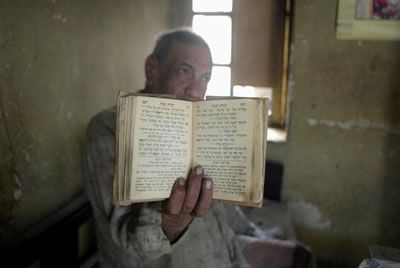 Yacoub Youssef, an Iraqi Jew, holds his prayer book in his houose in Baghdad's
Tanaouine neighborhood, April 19, 2003

Source

"It is far from the first instance of tampering with, exploiting, and deleting our history, but it is the straw that broke the camel's back, and so … we formed the Committee of Baghdadi Jews in Ramat-Gan."

This is how writer, poet and activist Almog Behar described a decision by a group of Jews from Arab and Kurdish backgrounds to speak out forcefully against renewed Israeli government propaganda efforts to counter Palestinian refugee rights by using the claims of Jews who left Arab countries for Israel in the 1950s.

Israeli diplomats, Haaretz reported last week, "have been instructed to raise the issue of Jewish refugees from Arab countries at every relevant forum. This is part of a new international campaign to create parity between the plight of Jewish and Palestinian refugees, Deputy Foreign Minister Daniel Ayalon announced on Monday."

"The way the Israeli establishment uses our history from the 1950s, is not in order to give us our rights back, but in order to get rid of the rights of the Palestinians, and avoiding a peace agreement with them," Behar wrote to The Electronic Intifada.

The idea is that Palestinian refugee and property rights are negated by equivalent claims from Jews from Arab countries, thus absolving Israel of having to make any restitution to Palestinians. Jews who left Iraq and some other Arab countries in the 1950s for Israel were deprived of their property and citizenship.

The Israeli government does "not represent us"

But in an extraordinary statement posted on Facebook last week, the newly-formed Committee of Baghdadi Jews in Ramat-Gan, of which Behar is a founding member, hit back:

We are seeking to demand compensation for our lost property and assets from the Iraqi government - NOT from the Palestinian Authority - and we will not agree with the option that compensation for our property be offset by compensation for the lost property of others (meaning, Palestinian refugees) or that said compensation be transferred to bodies that do not represent us (meaning, the Israeli government).

The statement went on to demand an investigation of Israel's complicity in the departure of Iraqi Jews from their homeland including in terrorist acts against Jews:

We demand the establishment of an investigative committee to examine:
1) If and by what means negotiations were carried out in 1950 between Israeli Prime Minister David Ben-Gurion and Iraqi Prime Minister Nuri as-Said, and if Ben-Gurion informed as-Said that he is authorized to take possession of the property and assets of Iraqi Jewry if he agreed to send them to Israel;

2) who ordered the bombing of the Masouda Shem-Tov synagogue in Baghdad, and if the Israeli Mossad and/or its operatives were involved. If it is determined that Ben-Gurion did, in fact, carry out negotiations over the fate of Iraqi Jewish property and assets in 1950, and directed the Mossad to bomb the community's synagogue in order to hasten our flight from Iraq, we will file a suit in an international court demanding half of the sum total of compensation for our refugee status from the Iraqi government and half from the Israeli government.

Zionist role in flight of Jews from Iraq

The role of Israel and Zionist undercover agents in helping precipitate the departure of Jews from Iraq has long been suspected.

Naiem Giladi, an Iraqi Jew who joined the Zionist underground as a young man in Iraq and later came to regret his role in fostering the departure of some 125,000 Jews from Iraq, wrote that, "Zionist propagandists still maintain that the bombs in Iraq were set off by anti-Jewish Iraqis who wanted Jews out of their country." But "the terrible truth," Giladi said, "is that the grenades that killed and maimed Iraqi Jews and damaged their property were thrown by Zionist Jews."

Read more
Trackbacks